Confectionery Showcase (curve glass) - PR-S Type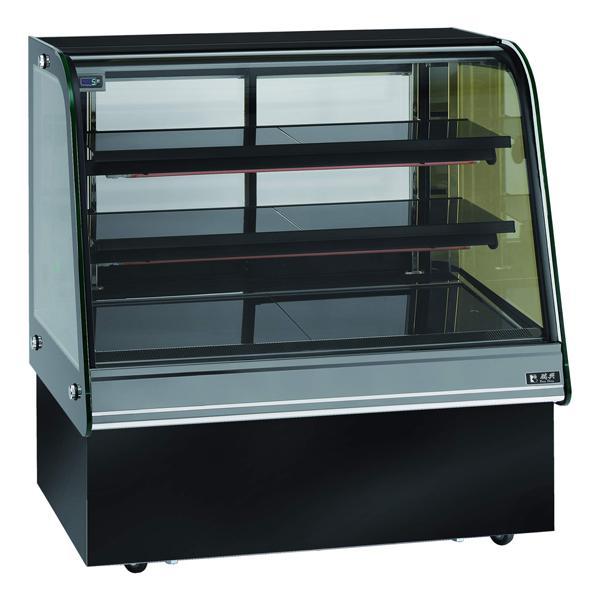 Product ID: RS-C1004PR-S,RS-C1005PR-S,RS-C1006PR-S,RS-C1008PR-S
The brand new energy efficient cake display made by Ruey-Shing. The PRS series carries the front ventilation de-fog system that will sufficiently help to reduce energy usage.
Features:
♦ Automatic anti-mist heater in glass door. Patent Serial No: M333855
♦ Silver plated control panel with easy to adjust buttons.
♦ Easy clean removable filter.
♦ Germany DANFOSS Compressor-quieter,durable and effecient.
♦ Removable drain container for convenient use.
See more complete detail
| Model | Dimension (mm) | Temperature Inside | Compressor | Power Supply | Accessory |
| --- | --- | --- | --- | --- | --- |
| RS-C1004PR-S | 1180 x 700 x 1210 | +3°C ~ +8°C | 600W | 220V / 110V 50/60Hz | 2 GLASS SHELVES (With choice of colours) |
| RS-C1005PR-S | 1480 x 700 x 1210 | +3°C ~ +8°C | 750W | 220V / 110V 50/60Hz | 2 GLASS SHELVES (With choice of colours) |
| RS-C1006PR-S | 1780 x 700 x 1210 | +3°C ~ +8°C | 900W | 220V / 110V 50/60Hz | 2 GLASS SHELVES (With choice of colours) |
| RS-C1008PR-S | 2380 x 700 x 1210 | +3°C ~ +8°C | 1100W | 220V / 110V 50/60Hz | 2 GLASS SHELVES (With choice of colours) |
Hot Products